Verified
QuokkaSwap ($USDT + $QUOK) Airdrop
@QuokkaSwap is hosting an exclusive Airdrop event with a prize pool worth 25,000 $USDT, rewarding 1,000 randomly selected lucky winners and the Top 50 referrers.

About QuokkaSwap

QuokkaSwap is a cutting-edge decentralized cryptocurrency exchange (DEX) designed to simplify the trading of ERC-20 tokens. What sets QuokkaSwap apart is its unique liquidity model. Unlike traditional exchanges that rely on order books, QuokkaSwap employs an innovative equation-based system. This approach ensures consistent pool performance and stable staking income, guaranteeing a seamless trading experience without compromising liquidity.
To support platform sustainability, QuokkaSwap introduced the $QUOK token, incentivizing users and ensuring long-term viability.
How to join the QuokkaSwap Airdrop?
Prize Pool 25,000 $USDT
Deadline 10th September, 2023
Distribution Date Within 30 days after Airdrop ends
Requirements to earn free crypto coins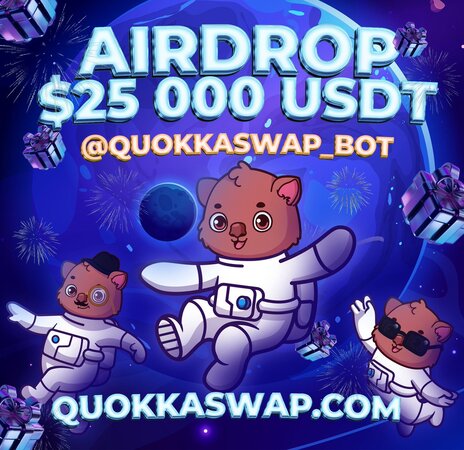 Native blockchain
Step-by-Step Guide ''QuokkaSwap Airdrop''
Start the QuokkaSwap Airdrop Telegram Bot.
Follow @QuokkaSwap on Twitter and like/retweet the pinned Tweet.
Register on QuokkaSwap.com.
▪️ 1,000 random lucky winners will share 22,000 $USDT and the Top 50 referrers will share 3,000 $USDT. Good Luck!
* Additionally, you can complete tasks on QuokkaSwap.com/rewards to earn $QUOK tokens. Invite friends using your referral link and get 10% on each token purchase.

When using decentralized applications (ÐApps), it's critical to remember that YOU are responsible for the security of your digital assets!
Disclaimer: Investors should take the time to research any given product before they deposit or invest their funds (DYOR).
Estimated value
~$ 25,000 + Bounty
Additional ICO information
Total Supply 1,000,000,000 $QUOK
Blockchain BNB Smart Chain
ICO Price 1 $QUOK = $0.004
QuokkaSwap - Video