Featured
Unverified
Relex (RLX) Airdrop
It looks like you are too late! This airdrop is closed
Looking for new airdrops?
Visit our Featured & New Airdrops pages.
Relex Airdrop is worth 25000 RLX tokens (~$ 5).

About Relex

Relex is the world's first cryptocurrency-based real estate development investment opportunity. RLX holders have the opportunity to invest in projects during the development phase, which results in exciting opportunities such as passive income, equity stakes, or proxy ownership of property. Relex is listed on Coinmarketcap.
How to join the Relex Airdrop?
Tokens Per Airdrop 25000 RLX
Tokens Per Referral No Referral Program
Team KYC Yes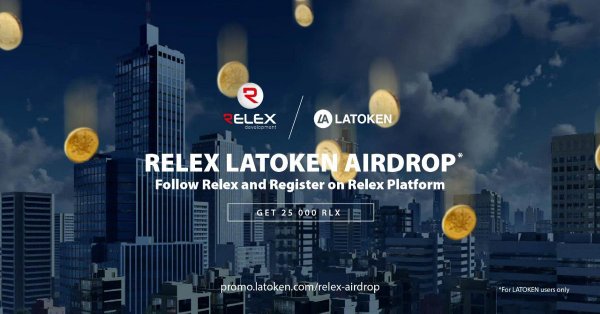 Native blockchain
Step-by-Step Guide Relex Airdrop
Chat with the Relex Airdrop Telegram bot.
Join Relex on Telegram.
Follow Relex on Twitter & like and retweet any post.
If you don't have an account on LATOKEN, create an account and complete Tier-2 verification.
Register on relexcapital.com using e-mail linked to your LATOKEN account & verify your email.
Submit your email and other details to the airdrop bot.
Tokens will be sent to the participants within 30 days after the end of the airdrop.
If you like the Relex Airdrop, don't forget to upvote and comment below.
Estimated value
~$ 5
Additional ICO information
Token price 1 RLX ≈ 0,000203 USD
Blockchain Standard ERC-20 Based Utility Token
Maximum Supply 2.000.000.000 RLX
Exchange IDEX
Restricted Areas Non-US citizens only
Headquarters Charleston, SC
Relex Video