Closed
Verified
Reserve (RSR) Airdrop
It looks like you are too late! This airdrop is closed
Looking for new airdrops?
Visit our Featured & New Airdrops pages.
Reserve airdrop is worth up to 1060 RSR tokens. Share your referral link to earn 1 RSR token for each referral.
About Reserve
Reserve is building a universal store of value. Reserve believes that everyone's money should be secure. Billions of people around the world don't have a safe place to store their money. Banks in some countries can't be trusted, and some governments inflate their own currency to pay off debts, hurting citizens in the process. With a few exceptions (e.g. money laundering, terrorist financing), Reserve believes anyone in the world should be able to transact with anyone else. This requires low-friction, cross-border transactions, which are hard to do with our existing financial systems. The Reserve project aims to solve both of these problems with a stable, decentralized currency that can't be abused by a government because it is globally distributed outside of anyone's control, and thus nearly impossible to shut down.
Would you like to receive the latest free Airdrop Alerts? Join our Telegram or Twitter.
How to join the Reserve Airdrop?
Tokens per airdrop up to 1060 RSR
Tokens per referral 1 RSR, up to 100
Total Supply allocated for Airdrop 5,000,000 RSR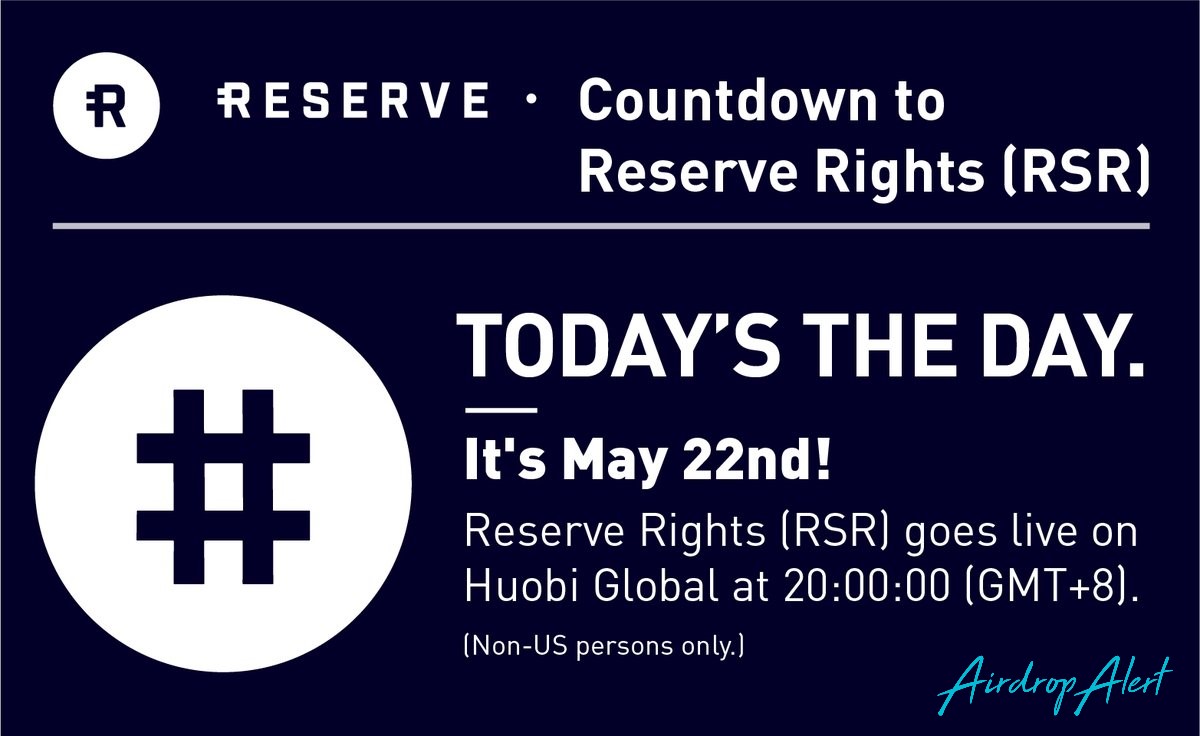 Native blockchain
Step-by-Step Guide Reserve Airdrop
Go to the Reserve Airdrop form.
Sign up at Huobi if you don't have an account yet.
Now go back to the airdrop form and sign up using e-mail or Twitter. You can find your UID number at the top on the right site under ''account information'' and your Huobi RSR Wallet Address here, scroll down to RSR & copy the ''deposit'' address.
Complete the all of the social media tasks to earn up to 1060 RSR tokens. The ratio of an entry to RSR token is 1:1.
Refer friends to earn 1 RSR token for every referral, up to 100 referrals.
Note: 50 RSR tokens (50 entries) will be the minimum requirement for the reward distribution. For more information, read this.
If you like the Reserve Airdrop, don't forget to upvote and comment below.
Estimated value
n/a
Reserve Video