Featured
Sponsored
SATO (SATO) Airdrop
SATO Airdrop is worth 10% of the total supply, 500,000 SATO tokens will be distributed to wallets across 3 different communities. You will have twenty-one days from launch to claim your rewards. All the qualified users will share the Airdrop pool.
Who Qualifies?
Over 50k unique addresses qualified for the Airdrop. To make the Airdrop you would have had to take any of the actions below on March 25, 2021.
- Held Badger or Digg token >0
- Held AMPL token >0
- Donated to Gitcoin

About SATO

SATO is a cross-chain elastic supply token pegged to the price of 1 USD. SATO's supply is computed based on a 24-hour volume-weighted average of price, which is quoted by Chainlink/SATO oracle from the market. It's the world's first algorithmic stablecoin that supports rebase of multiple smart chains. It aims to provide people with equal dividends and make the game fairer, unlike other DeFi projects where people lose their tokens impermanently due to the subjection to unilateral quotations and the continuous fluctuations of the token price. Many users faced problems while getting started in the world of crypto trading. So, everyone has a stake and a better chance at getting more successful.
SATO (Super Algorithmic Token) has incorporated many features which no other coin is offering. Not only that, but it is also the first stable coin to provide the fastest gas fee-free swap algorithm platform, allowing users more flexibility and control while using it. SATO algorithmic stable coin is currently available for staking at SwapAll staking platform and trading at VirgoX trading platform. SATO is a Stablecoin that is neither fiat-backed nor collateral-based. It is purely algorithmic and relies on market forces of supply and demand to maintain its price.
How to join the SATO Airdrop?
Total Airdrop Allocation 500,000 SATO
Airdrop End Date April 25th, 2021
KYC KYC is not a requirement
Requirements to earn free crypto coins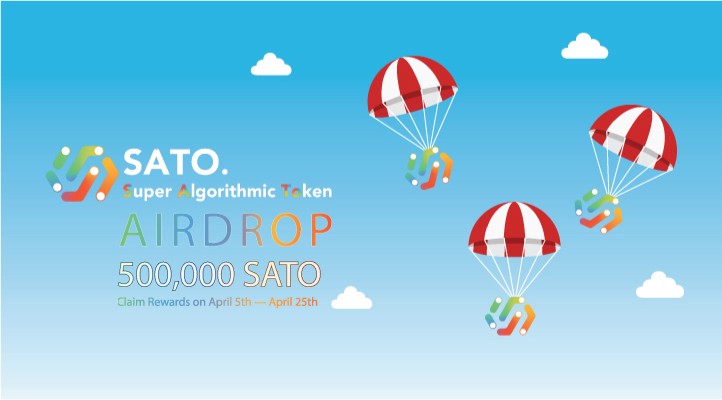 Native blockchain
Step-by-Step Guide ''SATO Airdrop''
Visit the SATO Airdrop page.
You will be able to claim your SATO rewards on April 5th — April 25th, all you have to do is go to the SATO website, and click "Claim Airdrop". You will be redirected to the SwapAll layer2 website. SATO will be distributed to crypto community members based on retroactive actions they've taken across protocols and platforms.
Connect with your Metamask wallet to sign in & Claim your Airdrop in the SwapAll layer2 version.
For more information, please check the SATO Airdrop blog.
If you like SATO Airdrop, don't forget to Like/Comment below.
Estimated value
n/a