Verified
Swash ($SWASH) Airdrop
Swash DAO Ignition Airdrop pool is worth up to 300,000 $USDT tokens for One lucky winner & All participants will automatically be considered DAO early bird members!

About Swash

Swash is an ecosystem of tools and services that enable people, businesses, and developers to unlock the latent value of data by pooling, securely sharing, and monetising its value. Join the 220,000+ people who are getting paid for their data.
Swash is reimagining data ownership, enabling all actors of the data economy to earn, access, build and collaborate in a liquid digital ecosystem for data. Read more about the Swash ecosystem launch.
Your data, your income. Swash makes more of what already is providing an easy way to passively earn, innovate, and create a fairer world and better, more equitable internet.
How to join the Swash Airdrop?
Requirements to earn free crypto coins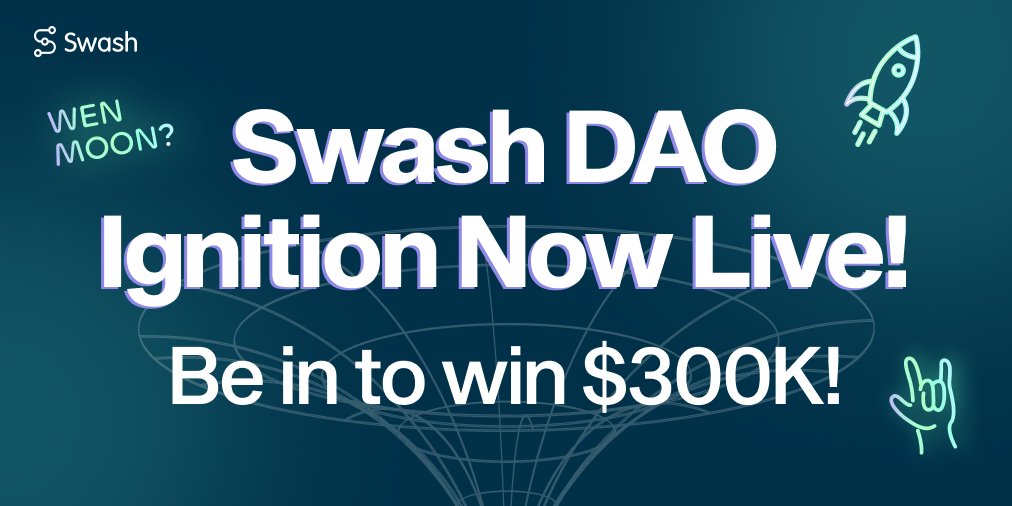 Native blockchain
Step-by-Step Guide ''Swash DAO Ignition Airdrop''
Visit the Swash DAO Ignition Airdrop page, and read carefully.
Hodl a minimum of 5,000 $SWASH tokens (~$ 225) in the cold wallet you are registering. Do NOT use your Swash app wallet. Only use a non-exchange wallet address on Ethereum, xDai, or Polygon.
Follow @SwashApp on Twitter & Retweet this Tweet including your wallet address with the following hashtags: $SWASH, #Swash and #SwashDAO.
Fill in the Swash DAO Ignition Airdrop FORM carefully with the correct information. Once submitted, be patient and wait for your application to be processed. Do not refresh the page.
Invite your friends and spread the word to grow the prize amount and get Swash to burn more tokens. As more people join, the prize total will increase and more $SWASH will be burnt!
▪️ One lucky winner will take home the grand prize worth up to 300,000 $USDT, and all participants will automatically be considered DAO early bird members!
▪️ Additionally, For every person who qualifies, Swash will add 20 $USDT to the prize amount until reaching a cap of 300,000 $USDT. If the prize reaches 300K USDT, Swash will also make a donation of 100K USDT to charity as part of the Data for Good program.
▪️ The campaign will be live for one year, until 15 February 2023. At the end of the campaign, the DAO will be live, the winner of the 300K USDT grand prize will be selected, Swash will have burnt 5M $SWASH tokens, and made a 100k donation to charity!
Like and share the Swash DAO Ignition Airdrop on your favourite SM!
When using decentralized applications (ÐApps), it's critical to remember that YOU are responsible for the security of your digital assets!
Disclaimer: Investors should take the time to research any given product before they invest their funds (DYOR).
Estimated value
up to ~$ 400,000 Prize pool
Additional ICO information
Total Supply 1,000,000,000 $SWASH
Blockchain Networks Ethereum, xDAI, Polygon
Markets Uniswap (V3), KuCoin, Gate.io,...
The Swash Scoop - Video