Closed
Verified
TomoChain x Lition (TOMO & LIT) Airdrop
It looks like you are too late! This airdrop is closed
Looking for new airdrops?
Visit our Featured & New Airdrops pages.
Lition x TomoChain Welcome Airdrop Event is worth a total of $60,000 USD in both TOMO coins and LIT tokens (18,000 TOMO & 300,000 LIT) as prizes in Phase 1 to celebrate TomoChain's acquisition of Lition (Read more).
Users who are either TOMO (native) hodlers or LIT (TRC21) hodlers, or both, during the event, will have the opportunity to participate in 2 types of promotions, divided into 3 phases until April 2021.
Welcome Event program PHASE 2 (begins January 2021) & PHASE 3 (begins April 2021) will be updated in the near future. The previous Lition (LIT) Airdrop has been successfully completed.

About TomoChain x Lition
Lition is a licensed German energy supplier and the world's first mass-market energy trading platform connecting renewable energy producers directly with consumers using the blockchain technology. Lition is a layer 2 blockchain infrastructure built on top of Ethereum that enables commercial usage of ÐApps. The Lition sidechain protocol complements the Ethereum mainchain by adding features such as privacy, scalability and deletability to meet GDPR compliance standards adopted by the EU. Lition is featured on CoinTelegraph.
TomoChain is an innovative solution to the scalability problem with the Ethereum blockchain, and other current blockchain platforms. TomoChain relies on a system of 150 Masternodes with Proof of Stake Voting (POSV) consensus that can support near-zero fee and 2-second transaction confirmation time. Security, stability and chain finality are guaranteed via novel techniques such as double validation, staking via smart-contracts and "true" randomization processes. TomoChain is featured on CoinTelegraph.
TomoChain and Lition are co-innovating with SAP, the world's largest maker of business software. The two organizations will collaborate in pursuit of a shared vision to empower businesses across the European and Asian markets with enterprise-ready blockchain solutions.

Would you like to earn Ethereum with Airdrop Alert? Have a look at our ETH referral Airdrop!
How to join the TomoChain x Lition Airdrop?
Total Airdrop Allocation 18,000 TOMO & 300,000 LIT
Tokens Per Airdrop Snapshot based
KYC KYC is not a requirement
Requirements to earn free crypto coins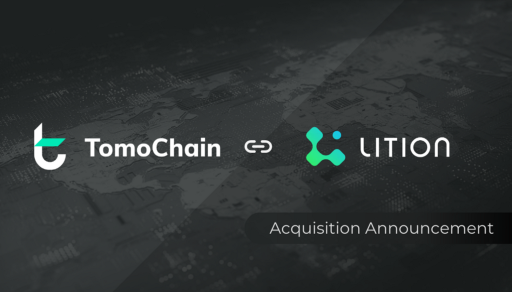 Native blockchain
Step-by-Step Guide ''TomoChain x Lition Airdrop''
Visit the TomoChain x Lition Airdrop announcement page.
Appreciation to $TOMO hodlers:
TOMO hodlers will either only need to HODL strong native TOMO in their personal wallets or stake TOMO on TomoChain network or both. Rewards will be distributed to all eligible wallet addresses within 7 working days after the campaign ends.
NOT Eligible for this activity: TOMO on CEXs, hodling TOMOE or TOMOB.
Appreciation to $LIT (TRC21) hodlers:
LIT hodlers will need to wrap their LIT (ERC20) tokens via TomoBridge to be used on the TomoChain blockchain (See Tutorial).
This wrapped LIT (TRC21) tokens are issued using TomoChain's TRC21 gasless token standard where gas fees will be paid in LIT (TRC21) itself (No TOMO is required). LIT (TRC21) tokens can always be unwrapped at any time back to LIT (ERC20) on the Ethereum network.
Eligible accounts will be able to claim their reward manually on the TomoWallet web version within 30 days starting from Nov 5th, 2020.

*Net wrapped volume will be calculated using the equation below:
Net wrapped volume = Total wrapped volume — Total unwrapped volume within the campaign duration
**Maximum receiving addresses: Calculated based on the total number of token addresses with their token hodlings found on EtherScan and TomoScan.

Note: Rewards are only given to eligible accounts with the highest net amount of LIT (TRC21) tokens wrapped and/or native TOMO hodlings until a snapshot phase 1 is taken at 9 am UTC on Nov.3rd, 2020.

For more information regarding the Airdrop, See the Official Announcement.

If you like the TomoChain x Lition Airdrop, don't forget to upvote and comment below.
Estimated value
~$ 60,000 in total
TomoChain x Lition AMA Video