Verified
X-Metaverse Pro ($XMETA) Airdrop
X-Metaverse Pro Airdrop Giveaway prize pool is 300,000 USD worth of $XMETA Tokens for 20,000 random lucky winners.

About X-Metaverse Pro

X-Metaverse Pro is an ecosystem built on DeFi 3.0 and Web 3.0 architectures to provide a comprehensive experience for developing decentralized applications (ÐApps).
$XMETA is a sustainable DeFi liquidity distribution protocol, the core of which is to create sustainable liquidity, rather than short-term liquidity mining. At the same time, the distribution of liquidity can be "guided" in a decentralized manner.
How to join the X-Metaverse Pro Airdrop?
Airdrop Prize Pool 300,000 U in $XMETA for 20,000 random winners
Deadline 10 December @ 23:59 PM UTC
Reward Distribution 20 December 2022
Requirements to earn free crypto coins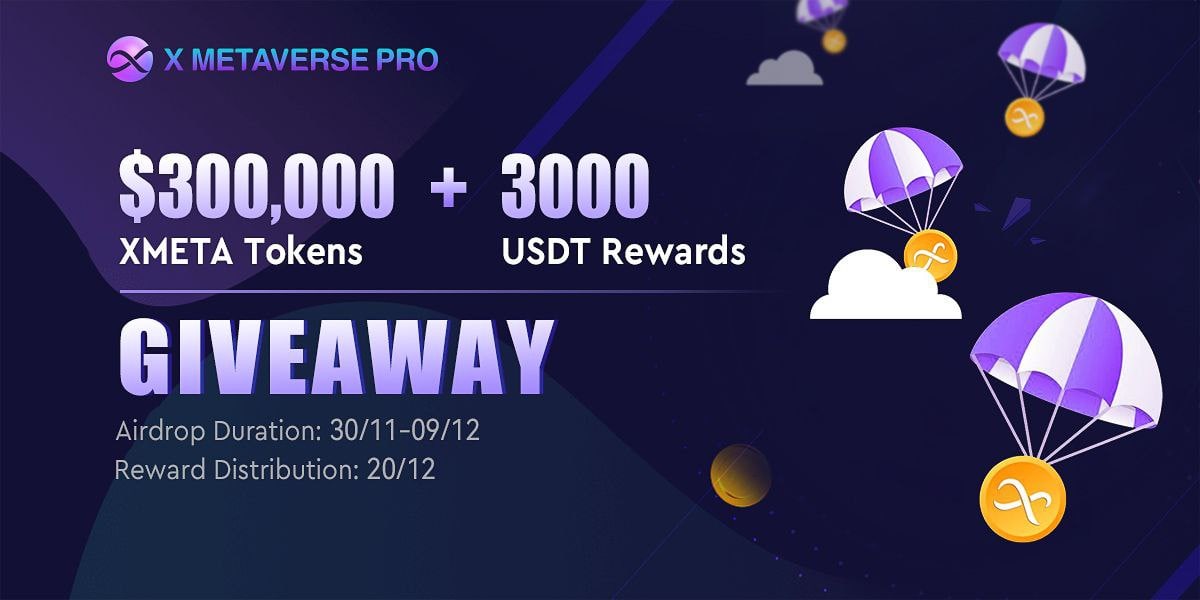 Native blockchain
Step-by-Step Guide ''X-Metaverse Pro Airdrop''
Login to the X-Metaverse Pro Airdrop Gleam page.
Follow @XMetaversePro on Twitter & RT this Tweet.
Visit the X-Metaverse Pro YouTube channel.
Submit your BSC wallet address.
Share your referral link to earn extra entries and increase your chances of winning.

▪️ 20,000 lucky participants will get $15 worth of $XMETA Each. Good Luck!
▪️ 100 USDT to the top 10 scorers, plus 20 random re-tweets (100 USDT each) payable by 31 December 2022.

When using decentralized applications (ÐApps), it's critical to remember that YOU are responsible for the security of your digital assets!
Disclaimer: This content is not intended to be financial advice. Investors should take the time to research any given product before they invest their funds (DYOR).
Estimated value
~$ 300,000 Prize Pool
Additional ICO information
Initial Supply 300 Million $XMETA
Blockchain BNB Smart Chain
Pre-sale IDO Coming Soon
X-Metaverse Pro - Teams Video