Sponsored
Boomerang Capital ($BOOM) Airdrop
Boomerang Capital Airdrop prize pool is $40,000 worth of $BOOM 💣 tokens for 10,000 lucky winners & Top 1,000 Referrers.

About Boomerang Capital

Boomerang Capital is the first dynamic market response protocol generating value for token holders through both unique operating model features and profit-generating services.
A dynamic market response protocol is a set of automated mechanisms built into the smart contracts of the protocol that will ensure that the market price of the underlying token is oscillating around the fair price of the asset, where the fair price of an asset is derived from the backing price of the coin and expected future growth.
How to join the Boomerang Capital Airdrop?
💰 Prize fund 🏆 $40,000 worth of $BOOM for 10,000 lucky winners & Top 1,000 Referrers
📆 Airdrop End Date 27 May, 2022 @ 11:59 pm
📆 Rewards Distribution 1st June 2022
Requirements to earn free crypto coins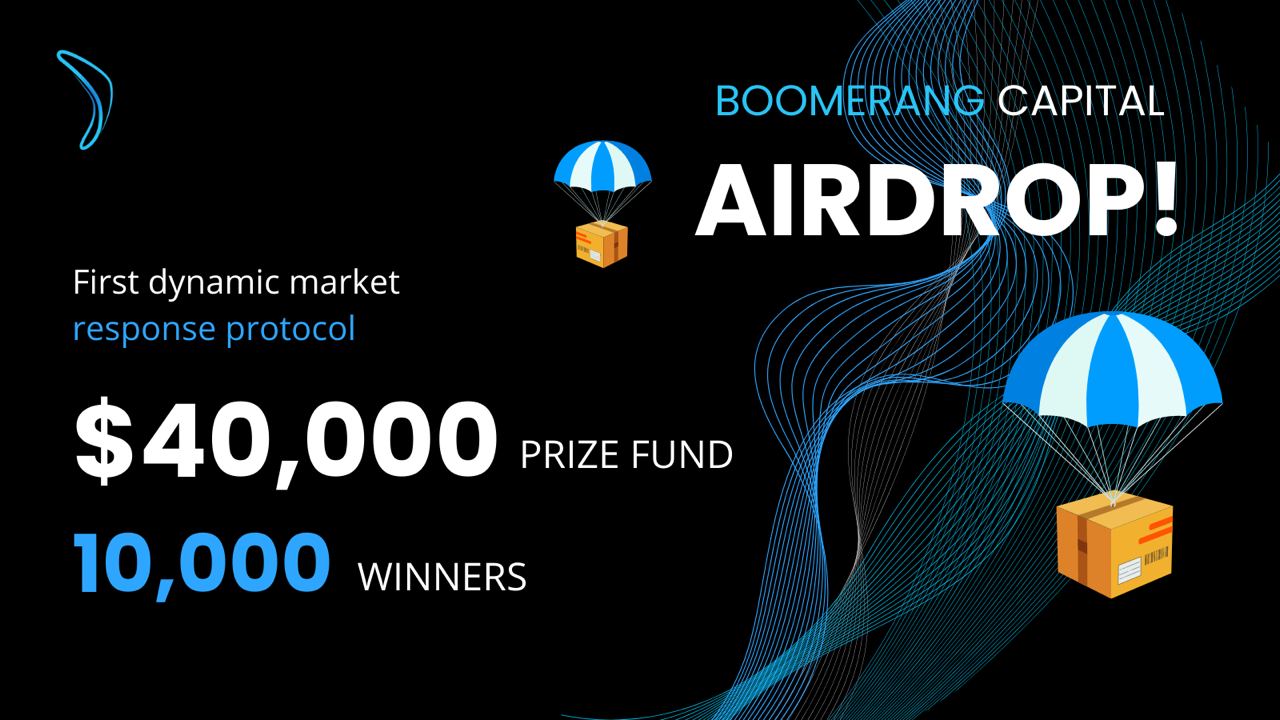 Native blockchain
Step-by-Step Guide ''Boomerang Capital Airdrop''
Login to the Boomerang Capital Airdrop page.
Join Boomerang Capital on Telegram Channel & Group, and answer a question in Telegram Group: What kind of updates do you want to see in the project?
Follow @BoomerangCptl on Twitter & Retweet the Airdrop & Litepaper Tweets tagging at least 3 crypto-related Twitter accounts with 10k+ followers that you would like to tweet about Boomerang Capital.
Follow @EthMare on Twitter, Founder at Boomerang Capital.
Join Boomerang Capital on Discord.
Follow Boomerang Capital on Instagram.
Submit your Ethereum wallet address & Invite friends to earn extra entries.
▪️ 10,000 winners will Each receive $3 worth of $BOOM 💣 tokens. Good luck! 🍀
▪️ The Top 1,000 most active referrers will also get $10 worth of $BOOM 💣 tokens Each.
** $BOOM 💣 Token hasn't launched yet so it doesn't have the contract address yet. It will launch by May 31st.
Like and share the Boomerang Capital Airdrop campaign on your favourite SM!
When using decentralized applications (ÐApps), it's critical to remember that YOU are responsible for the security of your digital assets!
Disclaimer: Investors should take the time to research any given product before they invest their funds (DYOR).
Estimated value
~$ 40,000