Verified
Karate Combat ($KARATE) Airdrop
Karate Combat launches the Biggest Giveaway In Sports History where 50% of the $KARATE governance tokens supply will be distributed for FREE over time to the Karate Combat community for participation in the DAO and the League's Up Only Gaming application.

About Karate Combat

Karate Combat is the future of combat sports, merging the ancient art of karate, millions of die-hard fans and practitioners, and cutting-edge video production, Karate Combat is the premiere karate organization in the world, founded to elevate and promote the sport of karate worldwide by creating the first professional, full-contact league.
Karate Combat is the First Professional Sports League to Launch a DAO and Transition Governance to its Fans and Athletes. Since debuting publicly in 2018, Karate Combat has become one of the world's fastest-growing sports franchises. It has television broadcast distribution in more than 100 countries through partnerships with leading media properties including CBS Sports, Globo, Eurosport, BeIN Sports and ESPN Deportes. Additionally, Karate Combat events are simultaneously streamed for free on the top global platforms including Facebook, YouTube, Twitter and TikTok (How to Watch).
How to join the Karate Combat Airdrop?
Prize Pool 50% of the $KARATE total supply
Blockchain Networks Ethereum & Hedera Hashgraph
Markets TBA
Requirements to earn free crypto coins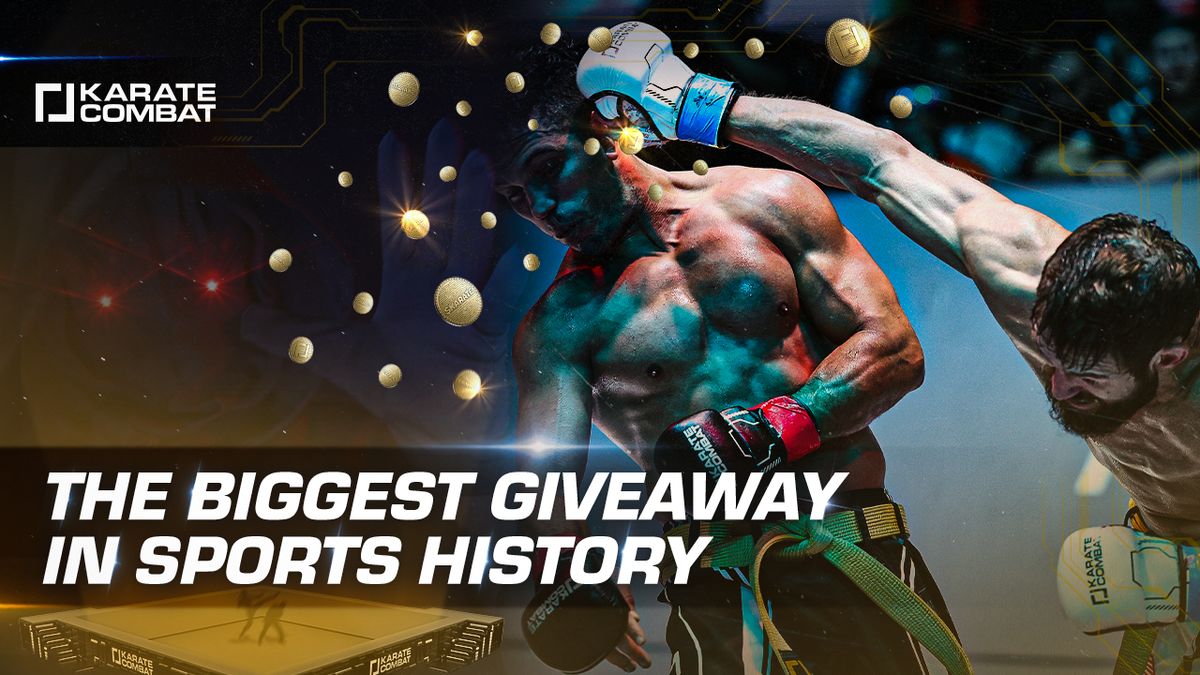 Native blockchain
Step-by-Step Guide ''Biggest Giveaway In Sports History''
In December, Karate Combat will begin distributing the $KARATE token for free, giving away up to 50% of the company over time to fans and fighters.
▪️ To claim yours, register for the Airdrop waiting list at Karate.com/Airdrop (Limited Time Signup). The Airdrop will coincide with the launch of the Karate Combat mobile app, which will enable fans to seamlessly claim their tokens and participate in the league's no-loss gaming application called 'Up Only Gaming.' No purchase will be necessary for fans to download the league's applications, or to claim $KARATE tokens.
▪️ $KARATE token holders will also be rewarded for their knowledge of the sport by earning additional tokens for successfully predicting Karate Combat bout winners. No tokens will be lost for unsuccessful predictions, but successful predictions will be rewarded with extra tokens.

Like and share the Biggest Giveaway In Sports History on your favourite social media!
When using decentralized applications (ÐApps), it's critical to remember that YOU are responsible for the security of your digital assets!
Disclaimer: Investors should take the time to research any given product before they invest their funds (DYOR).
Estimated value
50% of the $KARATE Total supply
The Biggest Giveaway In Sports History - Video