Verified
MOBOX ($MBOX + NFTs) Airdrop
With the FIFA World Cup fast approaching & the World stopping to be a part of this momentous football occasion, MOBOX is bringing you this fun and epic collaboration in partnership with @CoinMarketCap & @BNBChain.
The MOMO CUP 2022 is coming in full speed ahead kicking goals and bringing you a legendary month-long event with loads of fun activities, amazing prizes and jam-packed action!

About MOBOX

MOBOX is a cross-platform gaming metaverse that combines automated optimized DeFi yield farming & gaming NFTs to create a GameFi metaverse known as MOMOverse, a metaverse that can be enjoyed on all devices no matter where you are. Join in and be a part of this unique experience today!
How to join the MOBOX Airdrop?
Deadline 19 Dec 2022 @ 9:00 AM UTC
Requirements to earn free crypto coins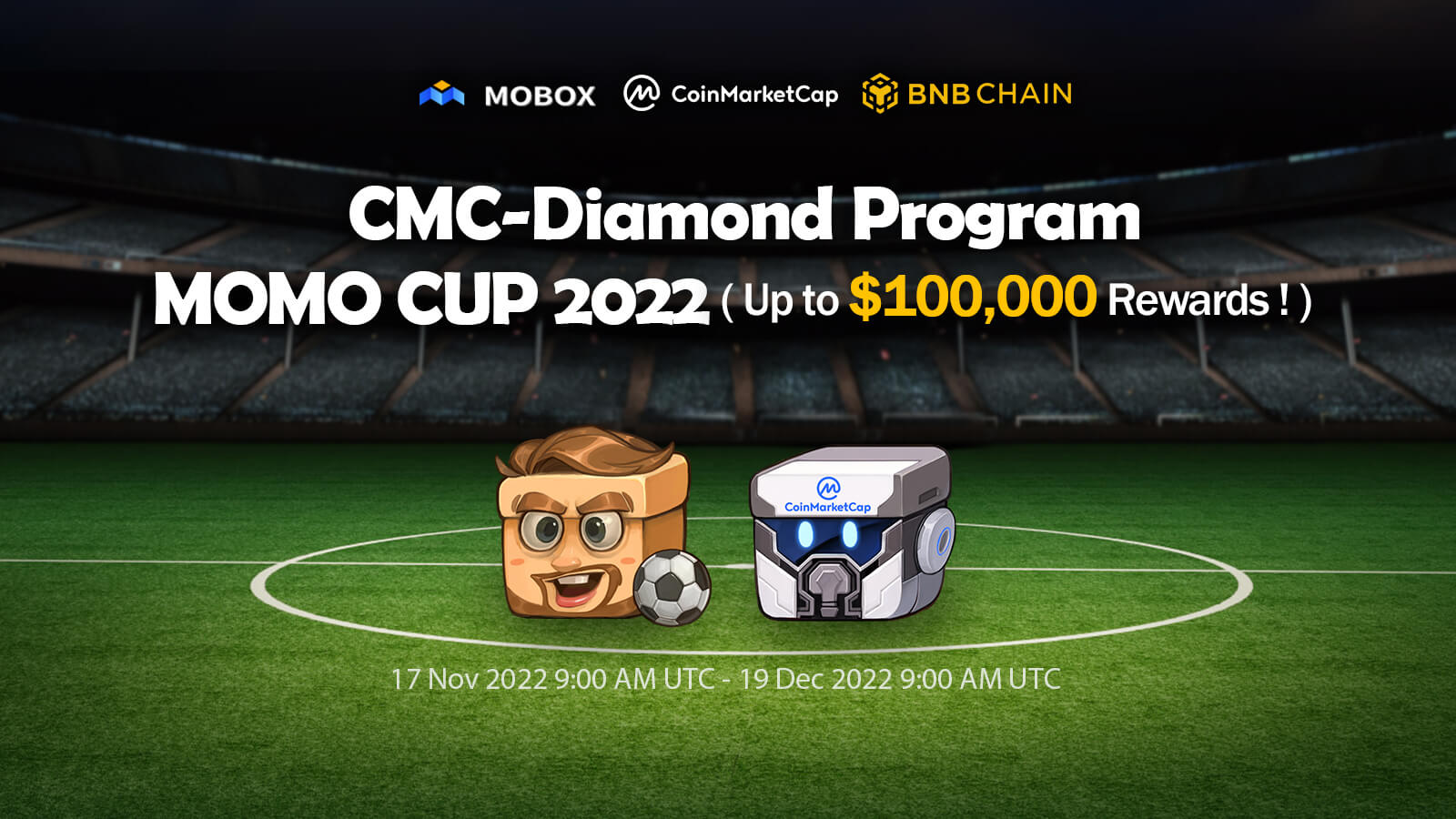 Native blockchain
Step-by-Step Guide ''MOMO CUP 2022 Airdrop''
The aim is to have fun in Social Activities and Game Challenges to get special World Cup MOballs. Then use your collected MOballs for the final lucky draw to win a CMC Legendary MOMO NFT, and additional rewards, totally valued at $100,000 USD!! Also, use the World Cup MOBalls you collected to catch MOMO NFTs in the MOMOverse.
Head to the MOMO CUP 2022 Airdrop page.
Connect a BNB wallet & Enter your Twitter username on MOMO CUP's landing page.
Follow @MOBOX_Official & @CoinMarketCap on Twitter, RT the Event Tweet, tag 3 Friends; Comment with your BNB wallet address on the MOMO CUP Tweet.
You are qualified to earn campaign rewards (World Cup MOBalls, Mystery BOXes, Avatars, and Legendary MOMO NFT!). You will find "Social Activities" and "Game Challenges" that you can complete to earn World Cup MOBalls, each World Cup MOBall equates to more entries for the Legendary CoinMarketCap MOMO NFT! Now you can kick Goals in the Social Activities & Game Challenges! GOOOooAALllll! 🙌 ⚽️

▪️ Rewards: World Cup MOBalls, World Cup Footballs, 1,000 MOMO NFT Mystery Boxes, 2,000 MOBOX Avatars, Airdrop 10K CMC Diamond Rewards, Airdrop 10K MBOX to exclusive CMC users, 1 Legendary CMC MOMO NFT.
* Note: The MBOX + Mystery Boxes, MOBOX Avatar + Legendary CMC MOMO NFT will be sent to your decentralized wallets after the completion of the event!

Like and share the MOMO CUP 2022 Airdrop on your favourite social media!

When using decentralized applications (ÐApps), it's critical to remember that YOU are responsible for the security of your digital assets!
Disclaimer: This content is not intended to be financial advice. Investors should take the time to research any given product before they invest their funds (DYOR).
Estimated value
~$ 100,000 Prize Pool
Metaverse on Mobox.io - MOMOverse