Verified
Armaldia ($USDT) Airdrop
Armaldia Airdrop prize pool is worth 10,388 $USDT tokens for 100 lucky winners.
The previous Armaldia Airdrop has been successfully completed.

About Armaldia

Armaldia is an economic Play2Earn NFT MMO game built on the BSC with a unique universe which is based on a War between two factions – Hitech & Wild Magic. It is a city builder genre game, but the first of its kind, because it has infinite expansion. The game allows you to own land, construct buildings, produce resources, buy, sell and trade. Still, the main attraction is WAR! Choose your faction, go to war and get rewards.
Armaldia universe is composed of 198,000 Land plots, which can be purchased as an NFT. You will build an economy on your land, which will be used to go to WAR and Earn crypto and NFT by playing. Armaldia is featured on News.Bitcoin.com.
How to join the Armaldia Airdrop?
Total Airdrop Allocation 10,388 $USDT
Number of Winners 100 Lucky Winners
Airdrop End Date 12 June, 2022
Requirements to earn free crypto coins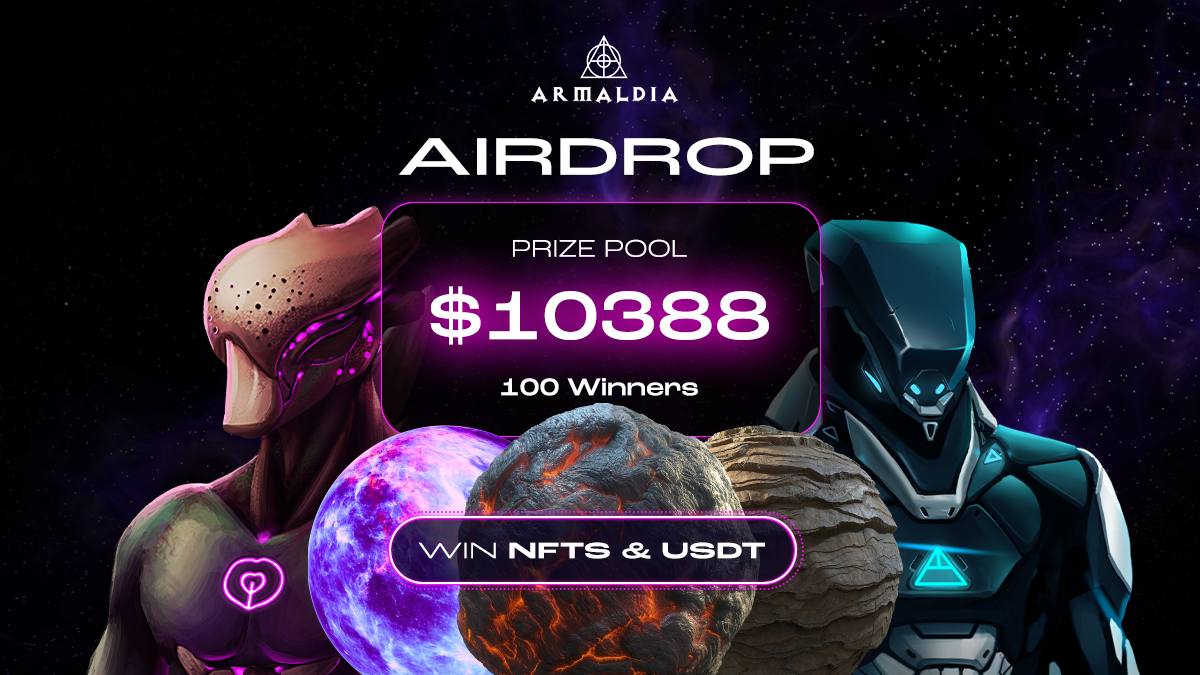 Native blockchain
Step-by-Step Guide ''Armaldia Airdrop''
Login to the Armaldia Airdrop Gleam page.
Join Armaldia & ALF Protocol & Holy Grail Markets on Telegram.
Join Armaldia & ALF Protocol & Holy Grail Markets on Discord.
Follow @ArmaldiaGame & @AlfProtocol & @HolyMarkets on Twitter + Retweet.
Visit Armaldia.com & Sign up for the Newsletter.
Watch the Armaldia Trailer on Vimeo.
Complete all tasks and refer friends to increase your chances of winning.

▪️ 500 $USDT will be distributed among 100 random lucky winners:
🏆 25 X $60 USDT
🏆 10 X $50 USDT
🌎 15 Land plot NFTs worth $199 USDT each
🌎 7 Land plot NFTs worth $349 USDT each
🌎 2 Land plot NFTs worth $555 USDT each

The War for Armaldia has begun, in war, no one is right, own, build, trade, fight! Become A Virtual Armaldia Land NFT Owner. Limited lands. Good Luck!

Like and share the Armaldia Airdrop on your favourite SM!
When using decentralized applications (ÐApps), it's critical to remember that YOU are responsible for the security of your digital assets!
Disclaimer: Investors should take the time to research any given product before they invest their funds (DYOR).
Estimated value
~$ 10,388 Prize pool
Armaldia - Video Trailer