Caution
Verified
Augmented Finance ($AGF) Airdrop
Augmented Finance is airdropping 2,500,000 $AGF tokens (~$ 1,320,000) to early users who supply any assets to lending pools on Avalanche.

About Augmented Finance
Augmented Finance is a next-gen DeFi liquidity protocol with full cross-chain compatibility to merge the liquidity across all chains and let users lend and borrow on various chains simultaneously. They build the foundation for multichain liquidity and are aspiring to support a long-tail of emerging digital assets to let users put these assets to work while maintaining exposure to their long-term value.
Augmented Finance is up and running on Ethereum and Binance Smart Chain since Oct 2021, and deploying on Avalanche.
Fair launch: no pre-mine, no pre-sale, no ICO, no VC allocation. Unlike Aave and Compound where the majority of tokens are distributed to ICO participants or Venture Capital funds, the majority of $AGF tokens are distributed to the Augmented Finance protocol's users who actively use the protocol (borrow, supply, stake).
How to join the Augmented Finance Airdrop?
Total Airdrop Allocation 2,500,000 $AGF
Airdrop End Date 28 February, 2022
Requirements to earn free crypto coins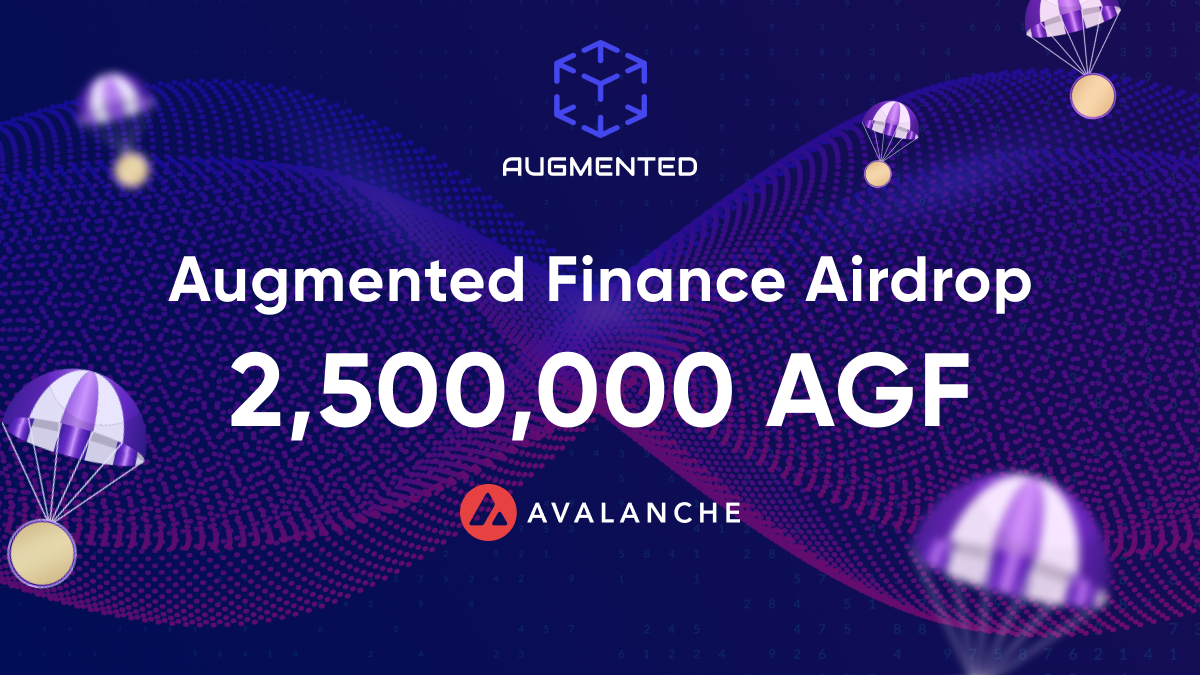 Native blockchain
Step-by-Step Guide ''Augmented Finance Airdrop''

▪️ Complete the tasks before 28 February 2022 at 3 pm UTC to be eligible to claim the Airdrop. The earlier you do the tasks, the more $AGF tokens you will receive. Detailed information about the Airdrop in this Medium article.

Like and share the Augmented Finance Airdrop on your favourite SM!

When using decentralized applications (ÐApps), it's critical to remember that YOU are responsible for the security of your digital assets!
Disclaimer: Investors should take the time to research any given product before they invest their funds (DYOR).
Estimated value
~$ 1,320,000 Prize pool
Additional ICO information
Total Supply 100,000,000 $AGF
Blockchain Networks Ethereum, Binance Smart Chain and Avalanche
Markets Pangolin & Trader Joe
Augmented Finance - Unofficial Video review