Caution
Verified
Bolide Finance ($BLID) Airdrop
Bolide Finance Giveaway prize pool is worth 225,000 $BLID tokens (~$ 5,000).

About Bolide Finance

Bolide Finance is a decentralised platform that allows DeFi users to invest their cryptocurrency assets into a set of automated algorithm-based "Bolide Strategies" and generate high yield farming protocols without moving a finger in a safe and decentralized manner. (i.e. Bolide Low-Risk Strategy can earn up to 30% APY).
All rewards earned from third-party DeFi projects are converted into $BLID tokens and paid to users.
How to join the Bolide Finance Airdrop?
Requirements to earn free crypto coins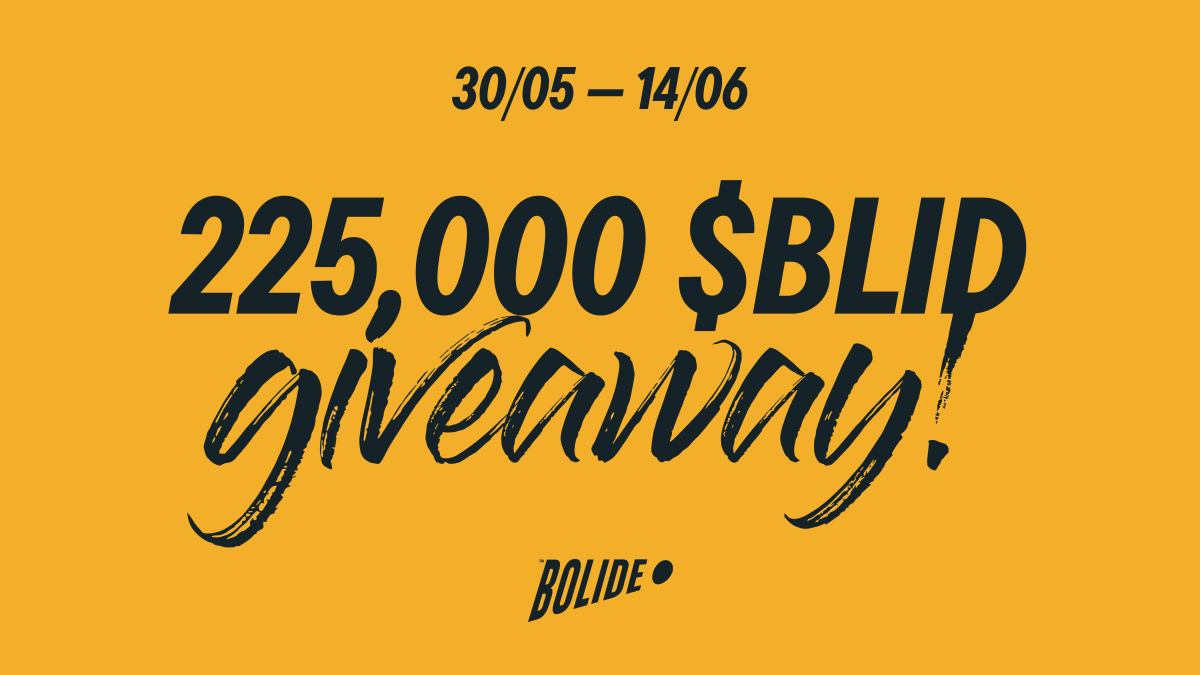 Native blockchain
Step-by-Step Guide ''Bolide Finance Giveaway''
Start the Bolide Finance Giveaway Telegram Bot.
Type your BNB Wallet address so we can airdrop you the tokens (/bind_wallet).
Fill out your email address (/bind_email).
Connect your wallet to Bolide and deposit $250 or more into the "Low-Risk 30% APY Strategy" via app.bolide.fi, and make sure you use the same BNB wallet in steps 1 and 2 so they know it's you. Here's a small Guide to help you with the process.
Type /get_ref to get your referral link and to earn more tokens by inviting your friends.

▪️ Bolide Finance will choose 50 winners at random on June 14 @ 12 PM GMT, and they'll each get 2,500 $BLID tokens free (~$ 55).
▪️ The top 5 referrers will receive an extra 10,000 $BLID tokens each (~$ 220)! You can keep track of the leaderboard by typing /get_top.
▪️ The top 5 users with the biggest deposit will get an extra 10,000 $BLID tokens free (~$ 220)!


Like and share the Bolide Finance Giveaway on your favourite SM! The previous Bolide Finance Airdrop has been successfully completed!
When using decentralized applications (ÐApps), it's critical to remember that YOU are responsible for the security of your digital assets!
Disclaimer: Investors should take the time to research any given product before they invest their funds (DYOR).
Estimated value
~$ 5,000
Additional ICO information
Total Supply 10,000,000,000 $BLID
Blockchain Networks Binance Smart Chain & Ethereum
Markets PancakeSwap & Uniswap
Bolide Finance - Unofficial Video Review