Sponsored
UkraineVsRussia NFT ($NFTs)
UkraineVSRussia NFT Charity Airdrop is worth 100 ETH of NFT tokens (~$ 300,000) to help War victims offset the consequences of the conflict in Ukraine, also to reward the first patrons in connection with the start of fundraising for the International Red Cross and Volunteer organizations through the NFT game.

About UkraineVsRussia NFT

UkraineVsRussia.io is a charity project by a team of caring people from different countries who decided to raise funds to help people who were suffering from hostilities. 50% of funds raised will be sent to the organization International Red Cross and Voices of Children.
Russian Federation started a war in Ukraine. Russian troops are destroying the infrastructure of Ukrainian cities and their population with precision weapons, and are still trying to capture the cities. The Armed Forces of Ukraine and volunteer detachments of civilians heroically rebuff the troops of the Russian Federation, with the help of Western weapons, which come from NATO countries. Will Russia survive Ukraine's fierce resistance or will it fall in defeat? You can arrange a battle between your NFTs and increase the power of the NFT.
A total of 20,000 NFTs will be issued, 10,000 Ukrainian troops & 10,000 Russian troops. Tokens will be issued in waves of 1,000 pieces. Each next wave will cost more than the previous one.
How to join the UkraineVsRussia NFT ?
Total Airdrop Allocation ~100 ETH worth NFTs
Airdrop End Date 8th April, 2022
Airdrop Distribution Rewards will be distributed at the start of the project
Requirements to earn free crypto coins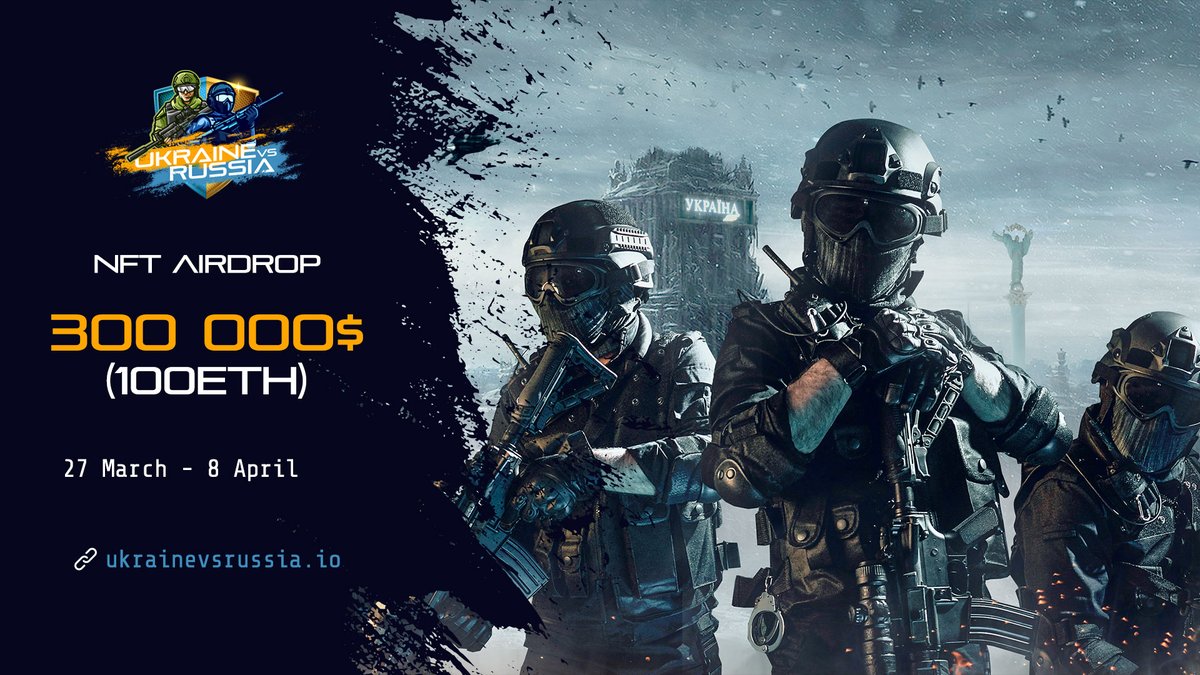 Native blockchain
Estimated value
~$ 300,000 Prize pool
Additional ICO information
Total Supply 20,000 NFTs Max
Blockchain Network Ethereum (ERC-721)
Markets Opensea (Soon)