Sponsored
MetaRush ($RUSH) Airdrop
MetaRush NFTs & Tokens Airdrop is worth 777 $RUSH tokens each for 2000 random participants & TOP 1000 winners will receive 1,000 $RUSH tokens each.
In addition, the Top 200 winners will receive Unique collectible NFT «CORE» and up to 7,530 $RUSH tokens each. Top 50 winners will receive Temporal access to Tier-2 DAO.

About MetaRush

MetaRush is a social incubator for metaverse, creating a three-tier DAO to develop collective startups in the Metaverse. Each active participant will unleash their skills, discover inspiration, and be rewarded for participation in the development of the project and for completing assignments and objectives (Regular voting for the benefits brought to the community). The first MetaRush experience will be in Tier 1 -CORE-, Free access without requirement.
The Tier 2 DAO platform will be launching after reaching the mark of 4,500 hodlers & Tier 3 Capital platform will be launching after reaching the mark of 30,000 hodlers. Staking will start on 12 February 2022 @ 13:00 UTC. Stake RUSH and Earn Up To 54% APR.
How to join the MetaRush Airdrop?
Total Airdrop Allocation 3,760,000 $RUSH (1.6 % Total Supply)
Referral Program 200 Unique NFT «CORE» + Tier-2 DAO Temporal Free access
Airdrop End Date February 3, 2022 @ 5:58 pm
Requirements to earn free crypto coins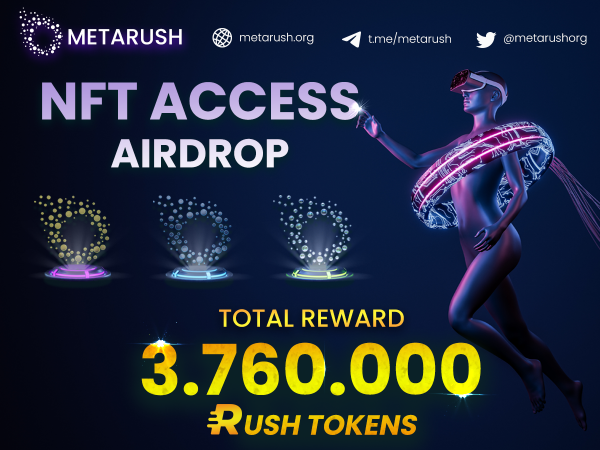 Native blockchain
Step-by-Step Guide ''MetaRush Airdrop''
▪️ You must have at least 5 entries to be qualified for the contest. Refer Friends for Extra Entries. The more entries you have, the greater your chances of winning.
▪️ THE NFT REWARDS WILL BE DISTRIBUTED BEFORE PRE-SALE & THE TOKEN REWARDS AFTER. You will be notified if you win!

Like and share the MetaRush Airdrop on your favourite SM!

When using decentralized applications (ÐApps), it's critical to remember that YOU are responsible for the security of your digital assets!
Disclaimer: Investors should take the time to research any given product before they invest their funds (DYOR).
Estimated value
~$ 13,000 Prize pool + 200 Unique NFTs
Additional ICO information
Total Supply 235,000,000 $RUSH
Blockchain Network Binance Smart Chain (BEP-20)
Pre-Sale Price 1 $BNB = ​122,200 $RUSH
Pre-Sale Start Date 5 February 2022 @ 13:00 UTC
Pre-Sale Start Date 7 February 2022 @ 13:00 UTC
Markets TBA