Sponsored
Pi INU ($PINU) Airdrop
Pi INU Airdrop prize pool is worth 2,412,953,000 $PINU tokens (~$ 2,000) to be distributed among 1,000 random lucky winners.

About Pi INU

Pi INU token is a blockchain-type cryptocurrency based on the concept of Pi network, which was a symbol of a decentralized ecosystem operated as a decentralized node. Although the value of the Pi network Coin has been unconfirmed and has not been verified as an investment vehicle, Since it aims to create an ecosystem based on a very large number of users, the possibilities are expected to be very wide. Pi INU seeks to establish its status as the only token that symbolizes the Pi network.
$PINU token is based on the Binance Smart Chain and can also be traded on Decoin, Coinsbit and PancakeSwap.finance. A maximum of 'π - trillion' Pi-INU tokens will be issued.
How to join the Pi INU Airdrop?
Total Airdrop Allocation 2,412,953,000 $PINU
Number of Winners 1,000 Random Winners
Airdrop End Date 10 April, 2022
Requirements to earn free crypto coins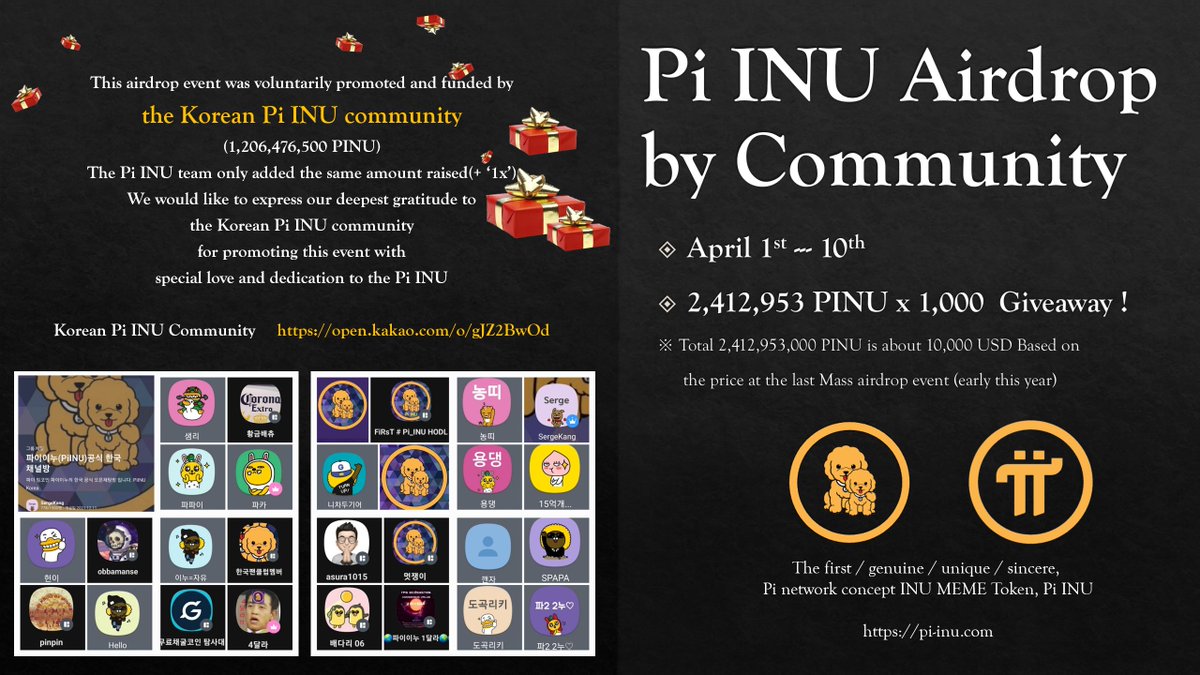 Native blockchain
Step-by-Step Guide ''Pi INU Airdrop''

▪️ 2,412,953,000 $PINU tokens will be distributed among 1,000 random lucky winners. Good Luck!

** This Airdrop event was voluntarily promoted and funded by the Korean Pi INU community with special love!

Like and share the Pi INU Airdrop on your favourite SM!
When using decentralized applications (ÐApps), it's critical to remember that YOU are responsible for the security of your digital assets!
Disclaimer: Investors should take the time to research any given product before they invest their funds (DYOR).
Estimated value
~$ 2,000 Prize pool
Additional ICO information
Maximum Supply 3,141,592,653,589 $PINU
Blockchain Network Binance Smart Chain (BEP-20)
Markets Decoin, Coinsbit and PancakeSwap
Pi INU - Video