Caution
Verified
Retreeb Staking Program ($TREEB) Airdrop
Retreeb Staking Airdrop program is worth up to 25% APR by staking at least $200 worth of $TREEB tokens.
$50k Airdrop coming to everyone who will Stake the coins. This is a Fantom gem you don't want to miss. The only ethical payment project!

About Retreeb
Retreeb is a Swiss Fintech company Founded in 2019 that reinvents decentralized payment using Fantom Opera network to pay, simple, practical, economical and acting in accordance with the universal values of ethics and solidarity by placing corporate social and environmental responsibility (CSR) at the heart of their business model and ambitions.
Retreeb commits its users to pay 33% of the transaction fees collected by Retreeb for the funding of social and environmental projects.
The Retreeb payment protocol uses a Directed Acyclic Graph (DAG) data structure powered by a two-asset system: (s)Treeb & (u)Treeb. This technology has the advantage of securing transactions using cryptographic processes while freeing itself from "miners", nodes usually responsible for the calculation.
How to join the Retreeb Staking Program Airdrop?
Requirements to earn free crypto coins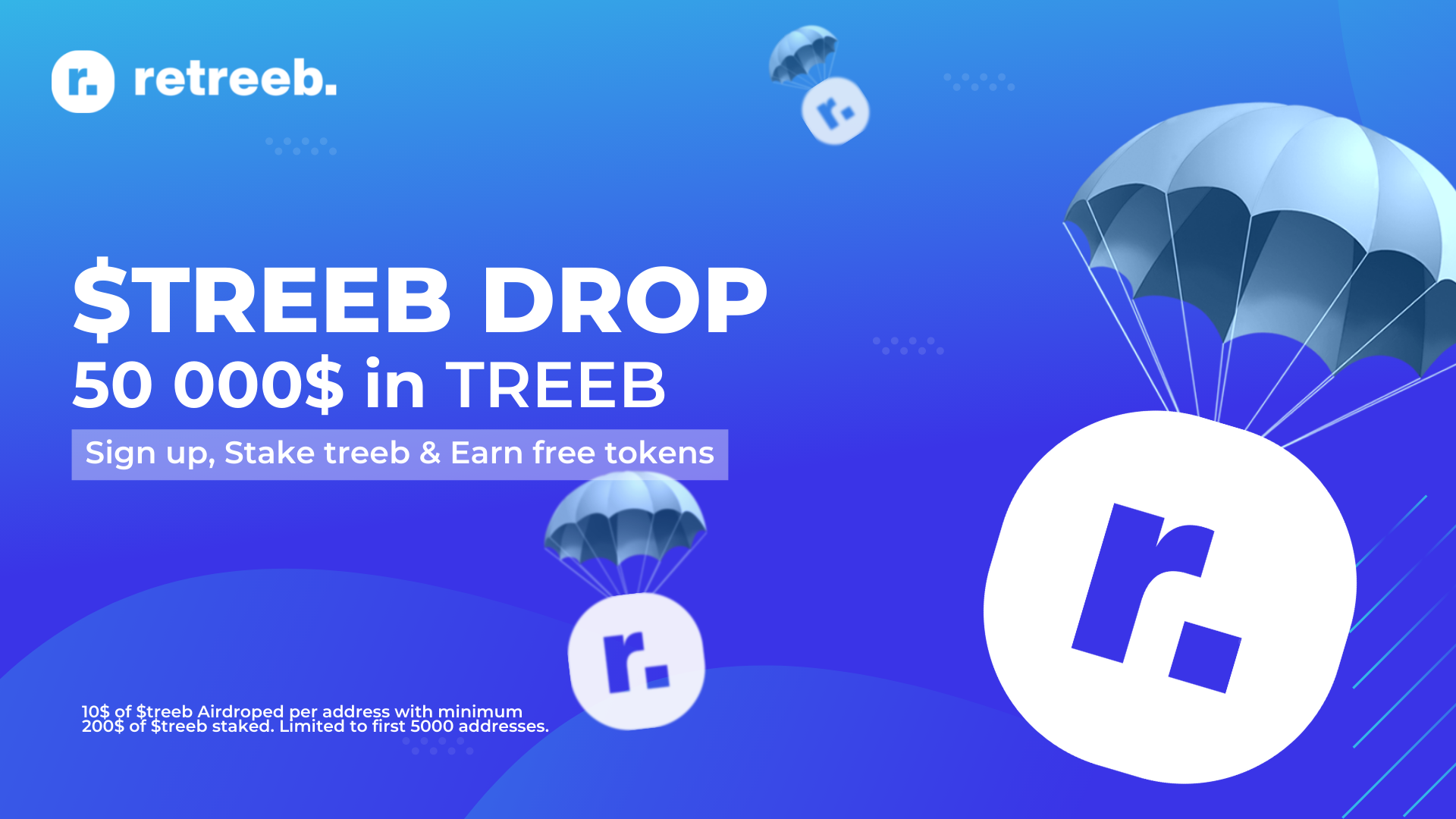 Native blockchain
Step-by-Step Guide ''Retreeb Staking Airdrop Program''
▪️ Each pool has a different lock-up period. The Staking Options are stipulated below:
Quick Pool — 9% APR — locked until May 14th (6 months).
Mid Pool — 12% APR — locked until August 12th (9 months).
Deep Pool — 25% APR — locked until November 15th (12 months).

▪️ Once the lock-up period is over, Click on the "Claim" button to claim your rewards. If you have questions, they will gladly help you on Telegram.
Please note that for the sake of security, each pool is on a different smart contract. You'll have to approve TREEB several times if you want to stake on several pools.


When using decentralized applications (ÐApps), it's critical to remember that YOU are responsible for the security of your digital assets!
Like and share the Retreeb Staking Airdrop program on your favourite SM!


Disclaimer: Investors should take the time to research any given product before they invest their funds (DYOR).
Estimated value
n/a
Additional ICO information
Total Supply 1 BILLION $TREEB
Blockchain Fantom network
Markets Public Sale
Retreeb - Official Video