Unverified
XenophonDAO ($OXPH) Airdrop
XenophonDAO Million Bounty Hunter Giveaway is worth up to 8 $OXPH tokens & 5 $OXPH tokens for every referral.

About XenophonDAO

XenophonDAO is a decentralized reserve asset with rebase protocol built on DeFi 2.0 based on XPH currency. The goal is to establish a currency system that is not controlled by policies, which can be used to improve the stability of currency prices and optimize price consistency, as a result, XPH tokens become the first DeFi governance protocol based on DAO+DAF on the Binance Smart Chain.
The APY mechanism will increase the balance exponentially! Assuming that the daily compound interest is 2%, if you start with a balance of 1 XPH on the first day, after one year, your balance will grow to about 1,377 XPH.
How to join the XenophonDAO Airdrop?
Requirements to earn free crypto coins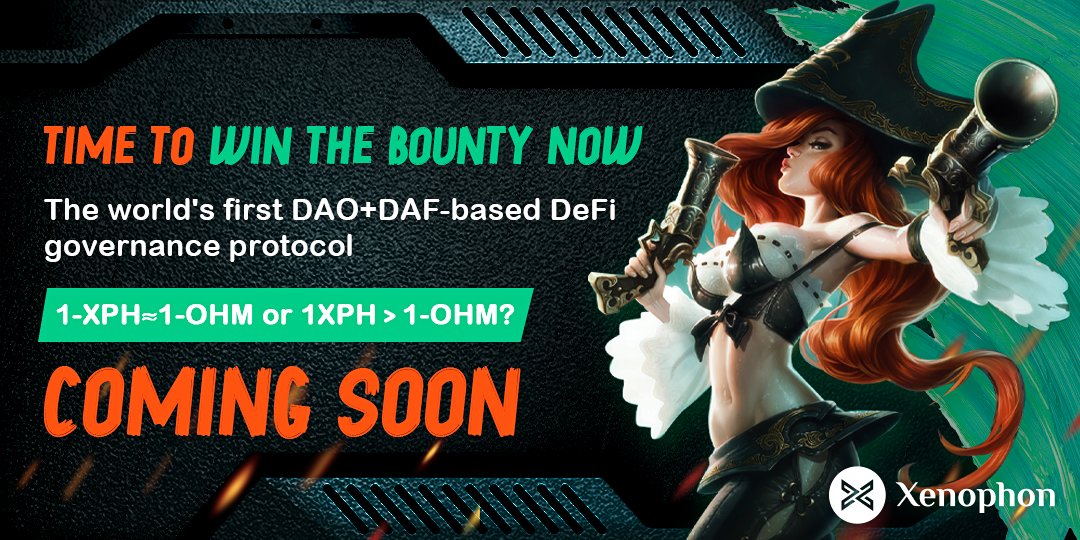 Native blockchain
Step-by-Step Guide ''XenophonDAO Million Bounty Hunter Giveaway''
Visit the XenophonDAO Giveaway page.
Follow @XenophonDAO on Twitter.
Join XenophonDAO on Discord.
Join XenophonDAO on Telegram.
Submit your BSC wallet address and details to the Gleam page.
Invite friends to earn 5 $OXPH for each.
Like and share the XenophonDAO Million Bounty Hunter Giveaway on your favourite SM!

Note: This Airdrop is labelled with the ''Unverified'' label because the info on the team is limited!
When using decentralized applications (ÐApps), it's critical to remember that YOU are responsible for the security of your digital assets!
Disclaimer: Investors should take the time to research any given product before they invest their funds (DYOR).
Estimated value
n/a
XenophonDAO - Video