Closed
Verified
YOKdata (YOK) Airdrop
It looks like you are too late! This airdrop is closed
Looking for new airdrops?
Visit our Featured & New Airdrops pages.
YOKdata airdrop is worth up to 200 YOK coins (~$ 7).
About YOKdata
YOKdata is a project by Support2U, a family-business founded in 2001, developer of various webapplications, like Secundo (business management & CRM), SoGolf (administration for golf associations) and SoClub.
YOKdata means having a safe cloud storage environment with optimal security / privacy for personal and/or enterprise use with the ability to share your information in various ways without losing security. All of that within GDPR-regulations and without the risk of losing your data to hackers or having it 'fished' by government agencies.
How to join the YOKdata Airdrop?
Total GiveAway 2 Million YOK
Total Tokens Per Participant Up to 200 YOK
Airdrop End Date August 31st, 2020
Requirements to earn free crypto coins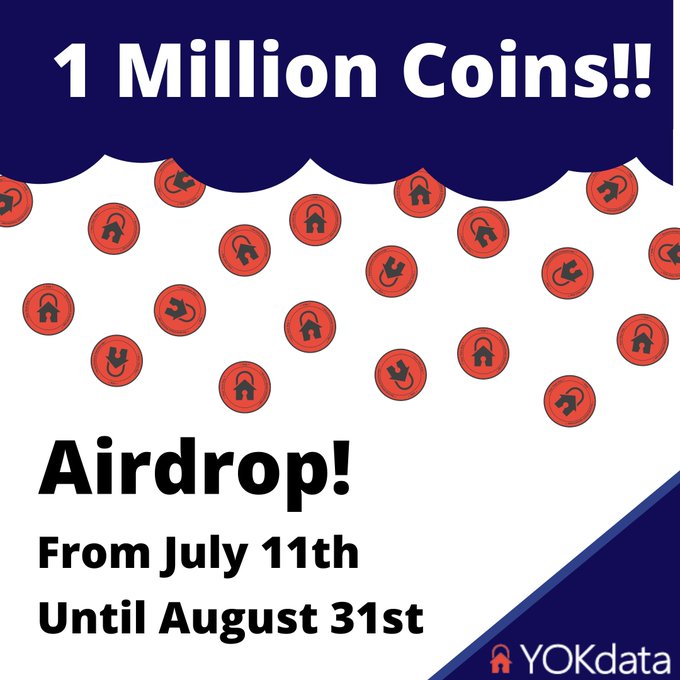 Native blockchain
Step-by-Step Guide YOKdata Airdrop
Go to the YOKdata Airdrop form.
Follow YOKdata on Twitter. (+ 25 YOK)
Join YOKdata on Telegram. (+ 50 YOK)
Register on YOKdata. (+ 125 YOK)
Submit your ERC20 wallet address and other details to the airdrop form.
You will recieve up to 200 YOK coins.
Note: all tasks are optional. You need to complete at least 1 task to earn free YOK coins. The airdrop ends on August 31st 2020, or when the reserved amount (2 million YOK) is rewarded. As of September 1st 2020 the team will check the validity of all participants and, when validated, they will transfer the YOKcoin earned to your given wallet address.
If you like the YOKdata Airdrop, don't forget to upvote and comment below.
Estimated value
~$ 7